Inter-National Adhesives Corporation finds adhesive solutions for customers; below are some examples:
9 second fiber tear
| | |
| --- | --- |
| | |
| 30 second fiber tear | 10 minute fiber tear |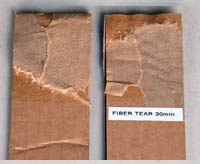 30 minute fiber tear
| | |
| --- | --- |
| | |
| 30 minute wood | 1 hour wood |
paper to plastic
RAW MATERIALS CHANGED SO ADHESIVE HAD TO BE ADJUSTED
"We just ordered a large amount of raw material from a regular supplier but when we ran it through our machines, we found that the adhesive we were using was not working at all. In three days Inter-National Adhesives successfully formulated a cost effective solution that not only increased our manufacturing efficiency, but could be used across all our substrates; this adhesive is still in use today."
1. a large paper conversion company, Quarter 4, 2010;
SIMPLIFIED AND UNIFIED OUR INVENTORY
"Our manufacturing process involves substantial packaging adhesive requirements and our company had been searching among various vendors for a complete packaging solution for our various requirements. Inter-National Adhesives successfully provided us with a cost effective and unified solution. We now only use one type of glue for packaging, thereby simplifying our inventory greatly"
AN ADHESIVE SOLUTION TO A MANUFACTURING LINE ISSUE
"One of our customers requires special packaging that our existing machinery is not equipped to handle. Until Inter-National Adhesives provided a solution, we had to use manual workarounds to meet our contract requirements. Inter-National Adhesives was able to provide a working, re-formulated solution in 48 hours. Now we are more confident about accepting larger orders without having to invest in new equipment"
2. a large own brand and toll manufacturer of consumer goods;
QUALITY IMPROVEMENT
"There were two issues that Inter-National Adhesives resolved for us; 1) Our brand new paper conversion machine required a more robust adhesive solution and 2) Our existing suppliers' quality of product could have been better. Inter-National Adhesives provided a customized solution still in use today…..they fixed both problems at once…"
3. a boutique paper conversion company, Quarter 4, 2010;
COST EFFICIENT SUPPLIER; TOP NOTCH QUALITY
"Our manufacturing standards required us to have supplier alternatives, especially in the area of adhesives which is a major component in one of our finished product lines. Inter-National Adhesives successfully hurdled our stringent quality control , plant visit and production requirements. Initially, we were looking at them as a secondary supplier but they are cost effective so they are now our primary supplier; a specialty products manufacturer in business for over 50 years."
ON TIME ALL THE TIME
"We had gotten used to waiting as much as three weeks for our orders to arrive; Inter-National Adhesives delivers within 24working hours of our issued purchase orders, often fulfilling an order on the same day; A niche player in the wood and construction industry."
SUPERIOR UNIT COST
"The product we source from Inter-National Adhesive is superior in performance and cost. We have been sourcing our adhesive from them for over two years now…"
A specialty wood and laminate manufacturer. Let us provide an adhesive solution for you…..we live for it -The Inter-National Adhesives team.
---